Hone your SMP skills with
THE #1 SCALP MICROPIGMENTATION TRAINING COURSE
Tired of sitting behind the desk working to achieve someone else's dreams while you can be building your own empire?
Be a pioneer in this evolutionary hair loss cosmetic procedure as the SMP industry is blowing up and more people are learning this revolutionary skill.
Earn more than $4000 weekly while making your own schedule!
Realize your worth and build your empire!
Did you know that with Scalp micropigmentation treatment you can earn $4,000 weekly after catering to just two clients ?
The Scalp Micropigmentation industry is booming and it's only a matter of time when everyone will be looking to get this treatment. You can be one of the first to offer it. Set yourself apart by getting trained and certified by a licensed and experienced professional.
Gabriel Barboza
My name is Gabriel, I began cutting hair at a young age. Hair has always been an interest for me. I realized how important a hairline can be for someone's self esteem and confidence. When l found SMP in 2017 I knew this would be my way to touch people's lives by giving them the hairlines and density that they had lost. Now after years of successfully changing peoples lives I share my years of experience by teaching others to do the same.
SMP has taken my career to the next level, And in this journey have not only learned everything that goes into SMP but also how to build my successful business, Precise Micro Scalps. I can honestly say that SMP has changed my life.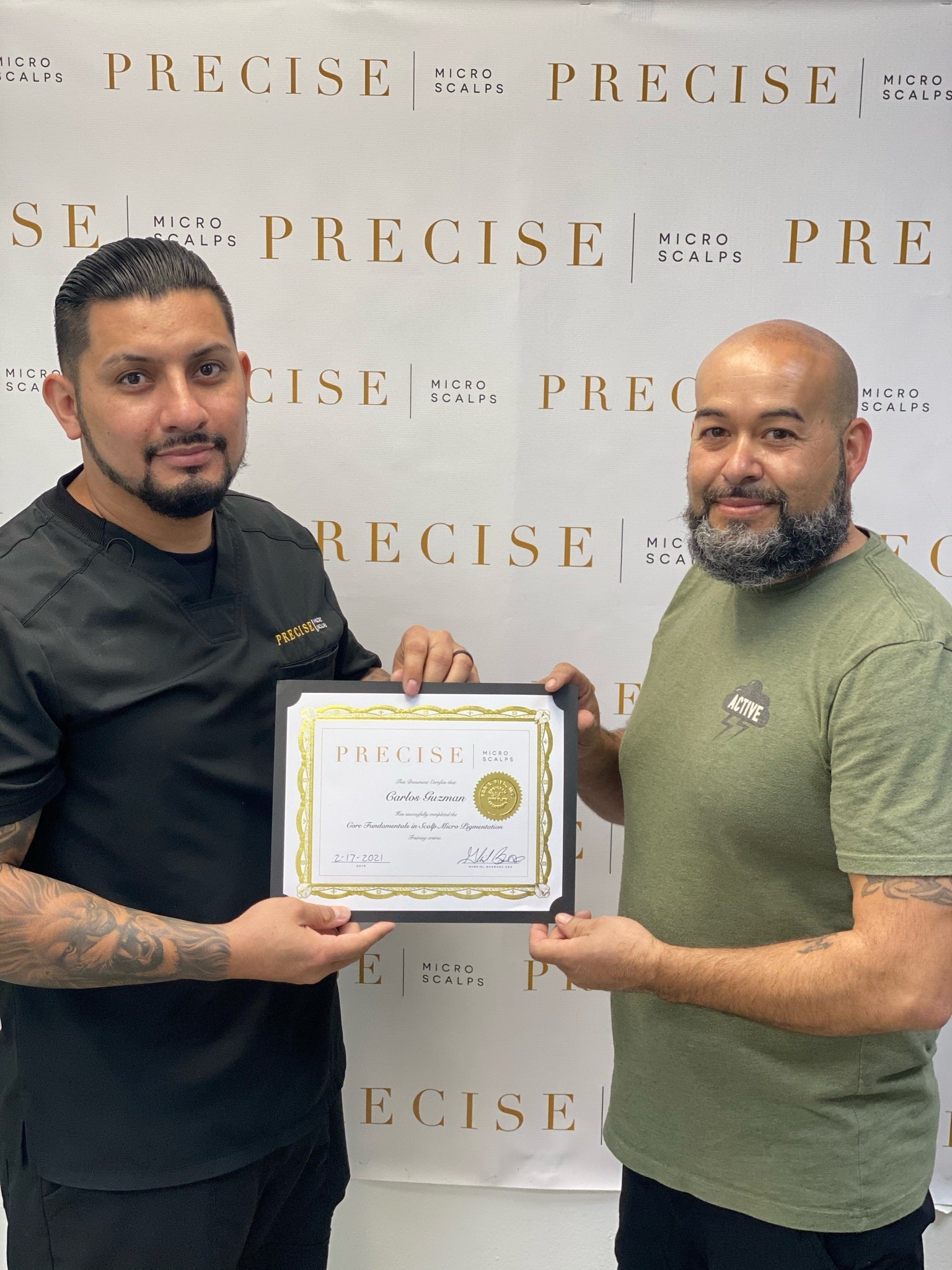 WHAT PRECISE MICRO SCALPS OFFER
4-DAY INTENSIVE
Join us in our beautiful studio for four back-to-back days of learning.
WORK WITH A LIVE MODEL
With close supervision by the SMP expert Gabriel with Hands On training.
LEARN LEADERS SECRETS TO PERFECT SMP
Perform the exact same technique used everyday by Gabriel himself.
LIFETIME SUPPORT
Access to daily communication with your Instructor Gabriel. Get your questions answered and feel confident with your new skill.
STEP-BY-STEP TRAINING FOR ALL LEVELS
Everyone is welcome with straight forward instructions that will get you working fast.
HANDS-ON LEARNING
Practice with real, professional Scalp Micropigmentation tools and 1-on-1 supervision from the Leaders S.M.P. team.
BARBERS,COSMETOLOGISTS, TATTOO ARTISTS WELCOME
No prior PMU experience needed. Increase your earnings with this.
CERTIFICATE OF COMPLETION
We certify you for completion of the SMP Advanced training course and set you up for taking clients.
TESTIMONIAL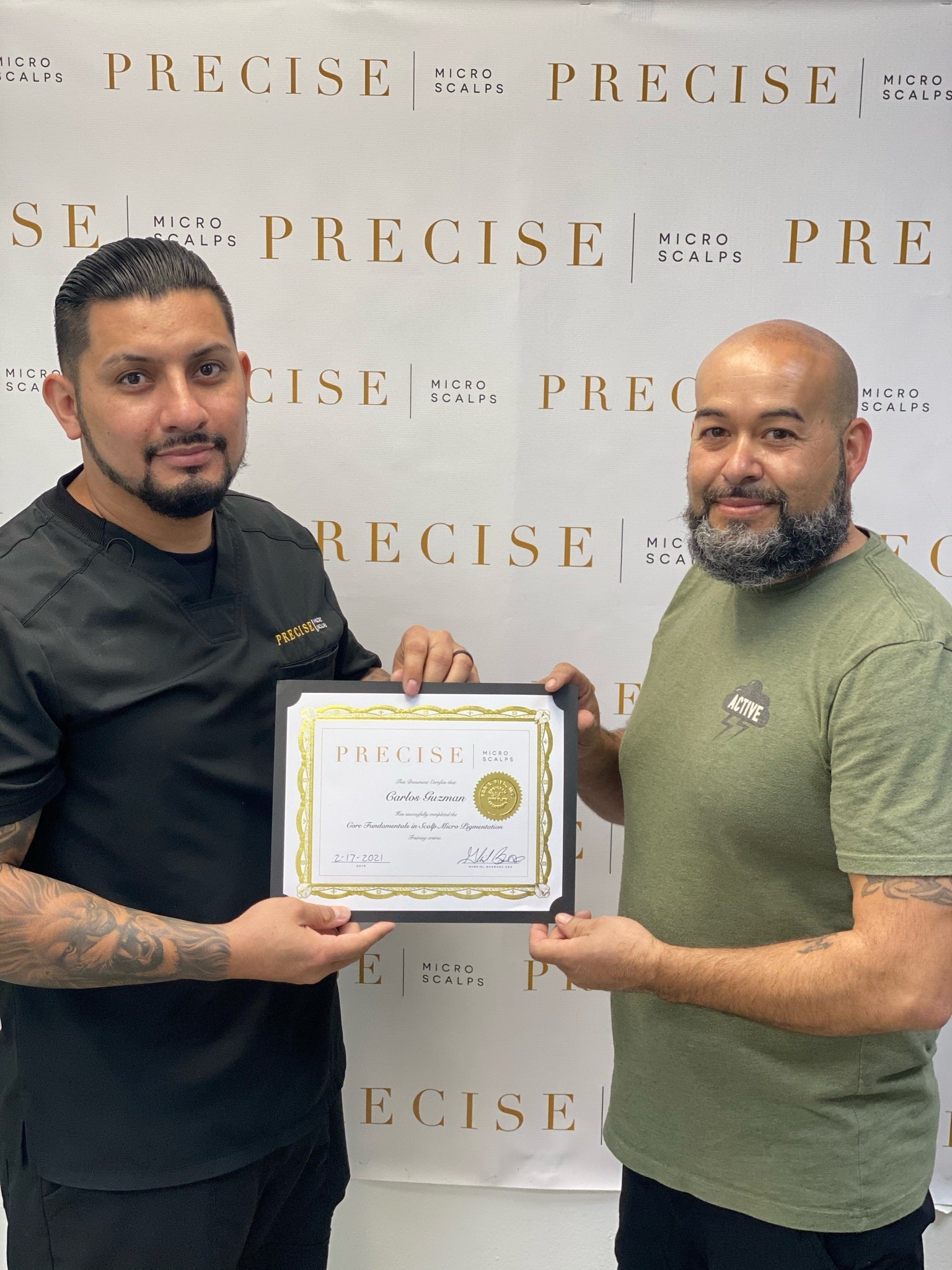 "I began balding at the age of 19 years old and never would have imagined that at age 30 I could reestablish the hairline from my youth. Thanks to Gabriel from Precise Microscalps. I am able to actually look my age again. He is experienced, professional, very welcoming, and you won't be able to find a better price for your SMP. You won't regret your decision"